Nigerian Lady Takes Daughter to the River on Her 5th Birthday, Says Water Gave Her the Kid, Video Causes Stirkid-video-stir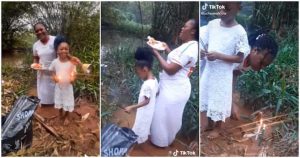 On the occasion of her daughter's 5th birthday, a Nigerian woman led her kid to a river to mark the special day At the river, the woman performed some rituals with some fetish items and afterwards shared the video online Her action got netizens divided as some knocked her, while others praised the woman, saying it was the right thing to do.
A Nigerian woman took her little daughter to a river to mark her 5th birthday in style. In a video she shared on TikTok, the woman and the celebrant sported white attires as she performed rituals there.
She lit candles at a dry spot and had with her some fetish items, including incense. Her clip stirred mixed reactions. In the comment section, the woman explained that the water actually gave her the child. She said her child almost died after birth until she realised her real source.
Share this post with your friends on
19 Responses