Emma jerry song – i will be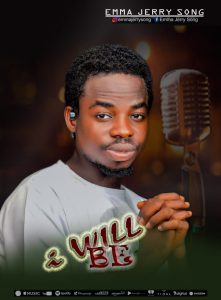 Multi Talented Nigerian musician Emma jerry song is out with a brand new song titled "i will be"
Let me introduce you to Emma Jerry, a brilliant new talent who is sweeping the music industry. Everyone who hears "I Will Be," his debut single, which is an upbeat and energizing tune, will be moved.
His soulful R&B vocals and a catchy pop tune come together in Emma Jerry's song to create a distinctive vibe. The melody of the song will undoubtedly stick in your head, making it a smash hit.
No matter what life throws at you, "I Will Be" is about remaining resilient and believing in oneself. The poignant message and strong vocals of Emma Jerry make this song a must-hear.
You should listen to Emma Jerry's debut track, "I Will Be," if you enjoy heartfelt, inspirational music. You It is available on all significant streaming services, or you can contact Emma Jerry personally by email at ejeremiah028@gmail.com. Don't pass up this fantastic new singer or her fantastic tune!
Stream and download below…
Share this post with your friends on
0 Responses