Morgan Riches – Unashamed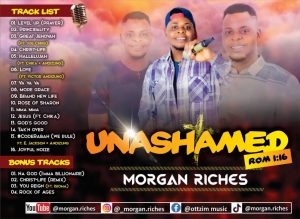 UNASHAMED [Rom1:16] is Morgan Riches' (a.k.a Cashflow) debut album. The concept of being unashamed is deeply rooted in the teachings of the Bible and reflects a sense of boldness, confidence in ones faith and identity as a true believer in Christ Jesus. It expresses Christians commitment to their Christian beliefs and their willingness to proclaim their faith fearlessly against all odds. It signifies a sense of pride, confidence, and dedication to sharing the teachings and values of Christianity through music.
Chiefly, it reflects the artiste's conviction, passion for his faith and the need to motivate his listeners cum fans in their own various walks of faith as expressed in Roman 1:16, "For I am not ashamed of the gospel, because it is the power of God that brings salvation to everyone who believes…"
Morgan Riches, whose full name is Morgan Felix-Riches Benson, is a christian/Gospel rapper, an actor, author and a song-writer. The album contains 16 tracks alongside singles like Principality, Level up and many more, and a four bonus tracks. It also features artistes like Chika, Joe Chris, Victor Andizung, E. Jackson and Isioma.
Stream and download all the track below 
2• PRINCIPALITY
3• GREAT JEHOVAH (FT. JOE CHRIS)
4• CHRIST-LIFE
5• HALLELUJAH (FT. CHIKA & ANDIZUNG)
7• Ya Ya Ya
8• More Grace
9• Brand New Life (ft. Joe Chris)
10• Rose of Sharon (ft. Chika)
11• Mma Mma
13• God's Good
14• Taken Over
15• CodeRabah [We Rule] (ft. E.Jackson & Andizung)
16• Joyful Noize
BONUS TRACKS
4• Rock of Ages
Share this post with your friends on
0 Responses