[Free Download] Mercy Solomon – Jehovah Overdo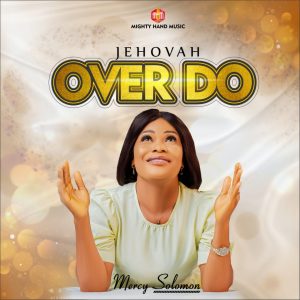 Multi-Award winning Nigerian gospel singer, Mercy Solomon,(Mighty hand music Artiste)  is out with a masterpiece record titled "Jehovah Overdo."
Furthermore, this song comes after "Too faithful," her last delivery that has kept the whole listeners worshipping God.
The inspiration behind the song's title "Jehovah Overdo" comes from the artist's personal experiences and her understanding of God's goodness and faithfulness in her life.
Mercy explained "Jehovah Overdo" is a testimony of God's grace and His miraculous deeds in her life. She said that the song was birthed from a deep place of gratitude and awe, as she reflected on God's faithfulness, love, and kindness towards her.
The song's lyrics express the artist's gratitude to God for His unwavering love, provision, protection, and miracles in her life. It emphasizes that God is a God of wonders, and nothing is impossible for Him to do.
Overall, the song title "Jehovah Overdo" is a declaration of God's greatness and a testimony of His goodness in the artist's life, which she hopes will inspire and encourage others to trust in God's faithfulness and experience His miraculous power.
Stream and download below…
Stream on digital stores….. 
Watch Video below
FOR MUSIC PROMOTION AND ALBUM MARKETING CONTACT US ON WHAT'S APP 09037857969
Share this post with your friends on
0 Responses