[Free Download] Pastor Bartholomew Oche – Draw Me Close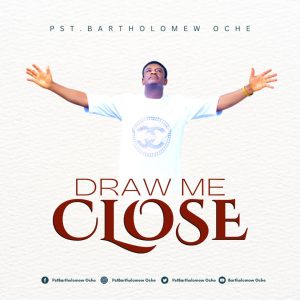 Pastor Bartholomew Oche is a Man of God. A trained Accountant and Administrator called, anointed and appointed by God into the full time ministry with undeniable proofs.
He is the Regional Pastor of Dunamis South South Region and the Resident Pastor of Dunamis Int'l Gospel Centre, Port Harcourt Central under the dynamic leadership of his Spiritual Father Dr Pastor Paul Enenche, the Senior Pastor, Dunamis Int'l Gospel Centre Worldwide, Glory Dome, Abuja Nigeria.
He started sensing the call of God in October 1999 while Working with Medichem Nigeria Limited, Port Harcourt, Early 2000, he got the direction that his time was up in the secular, which led him waiting on the Lord in an uncompleted building in Otukpo Benue State for six months to get clarity in God's purpose and Agenda for his life. He then proceeded to Makurdi to be with Endtime Foundation Ministry till early 2002. Because of his passion for soul he joined Evang Sunday Oguche of God's Care Mission Okpo in Coordinating Some of the Miracle Night and Calebite World Conference in Benue and Kogi State. In early 2003, as an intenerant Minister He organized the first ever city wide crusade in Agatu Local Government which Hosted Evangelist Sunday Oguche as Guest Speaker and other Anointed Men of God. In the same year 2003 he received prophetic directions through an audible voice to Join Dunamis International Gospel Centre in Otukpo, Benue State
In 2004, He proceeded to Abuja for his full time Bible School Training (Dunamis School of Ministry) DUSOM which he Graduated in December 2004. He was officially employed as a full time Ministerial staff in Dunamis in June, 2005 where he served in the Tape Department till June 2008 before his first pastoral posting.
He has Pastored in Four Different Dunamis locations changing lives and Destinies for the Kingdom: Dunamis Idu-Karmo as a pioneering pastor, he was posted to Dunamis Kaduna Central on 1st February 2012 in the midst of insecurity situation in the North which was characterized by bomb blast. God used him mightily despite insecurity to explode the church Spiritually, numerically Financially and infrastructural development and in planting of Seven Major Church branches in North west Region.
Dunamis Mararabarido, Dunamis Katsina Central, Dunamis Zaria, Dunamis Gonin Gora, Dunamis Mando, Dunamis Jigawa, and Dunamis Narayi. His passions for Training and Education moved him to Established and Build Destiny Christian Academy which is the first outside Abuja. In Dunamis Kaduna Central God use him to construct the link Road leading to the church. He has hosted the Senior Pastor Dr Pst Paul and Dr (Mrs) Becky Enenche in City wide crusades and Apostolic Invasion yearly. After Seven years six months of impactful productive Ministry in the North
He was posted to Dunamis Mararaba Central the Largest church in terms of crowd in FCT Aside Glory Dome in September 2019 of which God also used him to plant "Dunamis Kugbo within one year. He has passion to add value to Humanity like his Father in the Faith Dr Pst Paul Enenche, He decided to construct a Major Nyanya Mararaba Boundary Road which was commissioned by Dr Pst Paul & Dr (Mrs) Becky Enenche on February 8th 2020. After one year of impactful ministry in Mararaba His Father in the Lord Find him worthy and transferred him to Dunamis Portharcourt Central, South South, Nigeria on 2nd February, 2021 as Regional Pastor South South.
As a pastor in South South Region, and Dunamis Portharcourt Central, He want to see the earth filled with the knowledge of the Glory of the Lord. He has embarked on aggressive church planting Under his watch over 15 different Branches within the space of two years and more are still counting.
His passion is to see souls empty from Hell into Heaven with made him to organize crusades with verifiable proofs with signs and wonders with souls saved
By the grace of God, he ministers with three dimensional mantles that are proven, The Mantle of Speed, Mantle of Favour and Mantle of Prosperity.
His earnest desire and pursuit is to raise Kingdom Millionaires. Men and Women whose Money are not for personal Lusts but for the KINGDOM. This has led him to organized School of Wealth periodically, (SOW) a platform to raise kingdom Financial Giant with proven evidence in individual lives and organization in all the locations he has pastored .
He is the convener of BACK TO SENDER CRUSADE, a Breakthrough Meetings, WAVES OF HEALING, a Worship meeting and HIGH FAVOUR CONFERENCE, a annual meeting for the unveiling and provoking the dimensions of Divine Favour.
He is an unassuming humble servant of God.
He is married to His ever supportive Wife and a Beautiful Mother in Zion Mrs Sandra Oche and they are blessed with three children, Daniella, David Wealth and Deborah Oche.
"Draw Me Close' is a Devotional life transforming song, soul lifting song, blessing life's all Arround the world This song is a consecrated spirit filled worship that pulls you closer to God. It awakens, inspires and blesses the soul. Get set for a life transforming experience and encounter as you listen.
Stream and download below…
FOR MUSIC PROMOTION AND ALBUM MARKETING CONTACT US ON WHAT'S APP 09037857969
Share this post with your friends on
0 Responses