Martha Dickson – Fountain of Life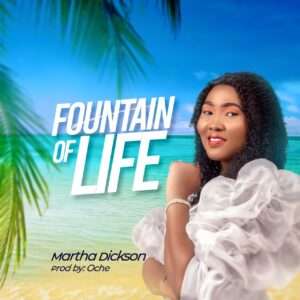 There is a Strategy beyond Human intelligence that sustains a Man of the Spirit, it is called the Spirit of the age to come,There is a Fountain Flowing perpetually that can be responsible for your survival, every believer can have a foretaste.
Fountain of Life is a Sound Straight from Heaven. Martha Ojonugwa Dickson-Omaiye with the Stage name Martha Dickson is a young Lady with great Passion for the things of God, The Gospel Music Minister, Worship Leader, Song Writer, Composer and Minister of the Gospel Hails from Kogi state Nigeria, Her Ministry and Music has blessed Thousands of Lives around the Globe, with the message of Intimacy, Restoration, Revival and Transformation. The Worship Leader from Childhood, One time NIFES Music Director Kogi State University, Graduate of Law and Preacher's Kid is Based in Abuja and continues to Use her Sound to Echoe the Heartbeat of the Father.
Fountain of Life Lyrics
Verse:
In your Light I see Light
Through your Life I have Life
Like Fine Wine I'm getting better everyday……..
I've received a Better convenant in your Favour is Life….
Nothing Compares to this….
Chorus:
We can Drink from the river of delight
we find refuge in the shadow of your wings…
we can feast in the Abundance of your House ….
the Fountain of Life is found in you(2x)
Interlude:
Unless the Lord Builds a House the Labourers Labour in vain, Oh God we ask that you breath your new Life into your people, every boy, every girl, every Man, every Woman, From dry Bones raise up a mighty Army so that all nations come to you because indeed the Fountain of life is found in you JESUS yeeeeaaahhh
back to Chorus
Martha Dickson is out with a brand new song titled "Fountain Of Life", the song Fountain of Life is a Sound Straight from Heaven.
Stream and download below….
FOR MUSIC PROMOTION AND ALBUM MARKETING CALL/WHAT'S App 09037857969
Share this post with your friends on
0 Responses