[Free Download] AMB Abraham ft. DT Victor – Imole (Light)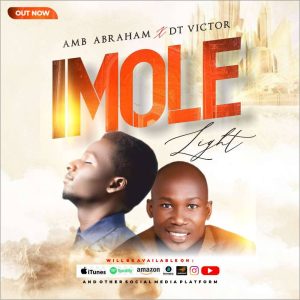 Nigeria gospel music minister,AMB Abraham team up with DT Victor in a brend new single titled  Imole (Light)
The track is a must-listen for anyone who loves gospel music or who needs a reminder of God's faithfulness and love.
This song is for Ignition, Energy will be boosted to shine forth. Foundations shall be rattled as you possess your possession.
Light is known by asking Who and not What.
Light is a being.
Light is transgenerational.
Light breaks.
Light makes.
Light reveals.
Light shines.
Light enlightens.
Light gives life.
Light speaks.
Light heals.
Light is sweet.
Light prevails.
Light reigns and rule.
Note: currently not available for free download
Stream below… 
https://fanlink.to/Imole-AmbAbraham-FT-DTVictor
FOR MUSIC PROMOTION AND ALBUM MARKETING CONTACT US ON WHAT'S APP 09037857969
Share this post with your friends on
0 Responses