[Free Download] Obibili – Blood On The Altar (BOTA)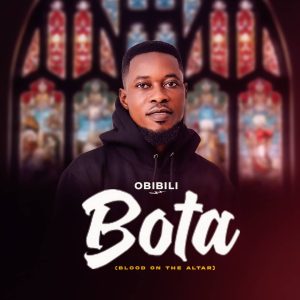 Nigerian most talented young gospel music minister, Obibili is out with a very powerful song titled "Blood On The Altar" (BOTA).
Exceptionally talented music artist Obibili who took the industry by storm with his first single earlier this year is back with his second release titled 'BOTA' an acronym for Blood On The Altar.
On this new track, Obibili masterfully captures the essence of Christ's finished work on the cross for the salvation of mankind and delves into the profound symbolism of His precious blood.
The song gives a deep insight into the transformative and redemptive power of Christ's sacrifice. With a fusion of rap, a captivating chorus, and heartfelt lyrics, Obibili invites audiences to reflect on the boundless love and better things that the blood of Christ represents.
The release of 'BOTA' (Blood On The Altar) marks a significant milestone in Obibili's career, showcasing his artistic growth and unwavering commitment to producing music that leaves a lasting impact. With this single, he further cements his position as a gifted songwriter and performer, and his passion for sharing the message of faith and salvation shines through in every note.
Stream and download below….
Stream on digital platforms below
Watch Video below…
FOR MUSIC PROMOTION AND ALBUM MARKETING CONTACT US ON WHAT'S APP 09037857969
Share this post with your friends on
0 Responses