[Free Download] Wame E – I will live for you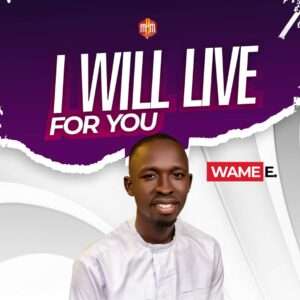 Nigerian fast rising gospel star, Wame E return with a life changing song titled "I will live for you"
The song I will live for you came as a result of Wameso's live experience. According to the story about my life, when I was a child I got seriously sick to the point of death and my parents took me to a community called Akaba in Bayelsa State under Yenagoa Local government area. According to what happened the woman that was treating me told my parents that they should go in search of a male lizard that when they find the lizard they should bring it to her for consultation whether I will die or not.
After they got the lizard, they took the lizard to the women and the woman tied the lizard that if it refused to walk I will die but if it walk that I will live.
God has the final say in our lives no matter what the enemies says.
It is God who restored my live and not what a native doctor does that kept me alive.
God kept me for a purpose and the purpose is to know him and make him known to the hold wild world so I will live to reflect the image of God through music that is how this song, I will live for you came.
Stream and download below…
FOR MUSIC PROMOTION CALL/WHAT'S APP +2349037857969
Share this post with your friends on
0 Responses