[Free Download] Elabed Greatness – Worship Experience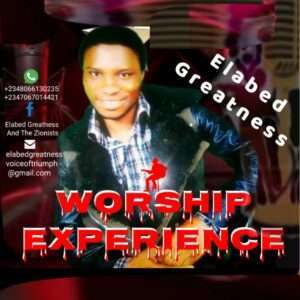 Nigerian gospel music minister,Elabed Greatness release a new song titled  "Worship Experience"
Worship experience is a song birthed out of a heart of gratitude. Listen to this powerful and life transforming song and get blessed.
ABOUT THE ARTISTE:
Pastor Adewumi Abednego (Elabed Greatness)
hails from Makeke in Akoko Edo Local Government Area of Edo State of Nigeria.
He is the president and founder of The New Dawn Integrity Ministers A.K.A. The Zionists.
He is a dynamic praise and worship lifter.
His worship experience is one of his songs that will never leave you the same way.
Facebook:
Elabed Greatness And His New Dawn Integrity Ministers A.K.A. The Zionists
Audiomack: Elabed Greatness
Hosgram: Elabed Greatness
Whatsapp:
+2348066130235; +2347067014421
Gmail: elabedgreatnessvoiceoftriumph@gmail.com
Stay Blessed. #ELVOT
Stream and download below…
FOR MUSIC PROMOTION AND ALBUM MARKETING CONTACT US ON WHAT'S APP 09037857969
Share this post with your friends on
0 Responses