LIVE: Presidential Tribunal Resumes Hearing As Labour Party Presents Witness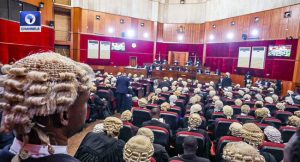 LIVE: Presidential Tribunal Resumes Hearing As Labour Party Presents Witness
The issue of electronic transmission of electoral results came to the fore at the resumed hearing.
After a short break on Thursday, the presidential election tribunal has resumed hearing and this time, its the turn of the Labour Party to bring forward its witness, Anthony Chinwo, a software engineer. 
---
Proceedings resumed earlier today with the Peoples Democratic Party (PDP) calling its subpoenaed witnesses.
When the first witness Egwumah Friday came forward, there was no objection from the lawyers of the All progressives Congress (APC) and the Independent National Electoral Commission (INEC).
---
The witnessed prayed that the court adopts his submission, following this prayer, the lead counsel of President Bola Tinubu, Mr Wole Olanipekun SAN objected to the motion for adoption of the PDP's witness' submission on the grounds that the party didn't list him as part of their witnesses before the tribunal began.
Mr Olanipekun urged the tribunal to reject the application of Chris Uche (SAN) Counsel to the PDP, to admit the submission of the witness.
---
The counsel to INEC, A.B Mahmood (SAN) and that of the APC Lateef Fagbemi also agreed with Wole Olanipekun counsel to the president.
However, the five man panel of judges led by Justice Haruna stood down briefly for ruling on the matter.
Upon their return, the panel of judges allowed the subpoenaed witness to proceed with submissions.
Under cross examination, INEC's counsel Friday Egwumah said as an adhoc staff he was able to successfully transmit the results for the Senatorial and House of representatives elections but he could not transmit that of the presidential elections even after repeated attempts.
---
The PDP called its second subpoenaed witness for the day, Grace Timothy, but counsels to Bola Tinubu, APC and INEC, all objected to her submission.
However,  Justice Haruna allowed her to give her submission before the court.
Again under cross examination, Grace Timothy who was a presiding officer in Plateau state said she also faced the same challenge of uploading the results of the presidential elections to the Irev portal as well.
Share this post with your friends on
0 Responses